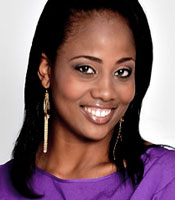 Kalia Huggins
Whether she's on the court, field or in the boardroom, absorbed in programming, painting a mural or producing pulsating music beats, she is a quintessential 21st century woman: intelligent, dynamic and versatile.
Raised and nurtured in a spirited community and guided by the simple yet powerful mantra "No Fear," Kalia has managed to excel in almost every challenge that has come her way. A keen sportswoman, she was the first female to play football for her primary school, as it was intended to be an all male football team as well as being a member of several National Netball Championships.
As a member of the Caribbean Healthy Lifestyle Program (CHLP) group, she has travelled to numerous Caribbean islands training and presenting about leadership and achieving goals to young people. Soon after, she attained the title of a CHLP Youth Leader as well as mentoring youth groups during and after graduating to Youth Leader at CHLP workshop.
Besides sports she is equally passionate about education, people and of course technology. Graduating from secondary education with outstanding awards and Tamkang University undergraduate and in the graduate program outshining everyone to claim the top spot in her department, she has shaped her life to pursue a career in the field of technology with special focus on security. she views her career choice as an opportunity to increase her knowledge in creating, implementing and ensuring more advance secure measurements that would be of great assistance and beneficial to users.
As the world is becoming technology dependent, she has carefully aligned her focus to the integration of "business-tech" and as such unified her knowledge on both business and the tech world. She is now able to do what has become another love in her life, while living in the time.
Kalia currently holds the position as Manager of the Dieppe Bay Youngstar Football team and Assistant Manager of the Dieppe Bay Eagles Football Club. These positions have allowed her to give back to the unfortunate and also combine her love for sports and helping youths in an area that has been deemed less fortunate.
She pride herself in assisting people, young or old. As a friend once said "No man is an island", and with this saying alone she believes that everyone needs a helping hand.