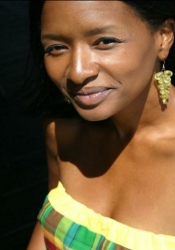 Vice Chairperson - Naeemah Hazelle
Naeemah is a busy mother of two boys and her outgoing personality was showcased as a co-host of St. Kitts' Visitor Channel for many years. She brings that same passion and dedication to working with adolescents and advocating for children's rights.
Returning home to St Kitts after completing her first degree at York University in Toronto, she began her career volunteering at the Basseterre High School as a Project Officer managing projects such as the Symba Boys Mentoring Programme and Teen Mother Programme. Later, becoming a member of the management team at the Washington Archibald High School where she remained for 11 years, supervising programmes such as Young Leaders, Student Council, PTA, and Project Viola; and acted as guidance counselor, HFLE teacher, and proud coach and leader of several teams and projects.
Naeemah completed her MSc. in Counseling Psychology with distinction from the University of the West Indies Cave Hill in Barbados; where she gained valuable experience working as a counselor in the country's male and female juvenile facilities. On her return home, she worked for the past three years as Deputy Director of the New Horizon Rehabilitation Centre.