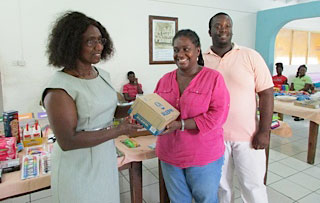 CONTACT: Linda "Maia" Hadi-Williams  | 869-465-7007
DATE: August 9, 2016
From her home in Stamford, Connecticut Edrice Lewis-Viechweg read about the recent the break-in at the Children's Home. After suffering from a few sleepless nights consumed by grief for the Home's loss she sprang into action wanting to bring some measure of justice for the children. Mrs. Lewis-Viechweg placed a call to Margaret Stevens, the Children's Home Administrator and asked how she could help. Ms. Stevens told her that the facility was in dire need of a security system. "No worries," Edrice told Ms. Stevens, and she made an appeal to her church family at St. John's Episcopal Church in Stamford, Connecticut. Telling the Minister and congregants about the break-in, she asked if they would assist the Children's Home by providing a security system. Without hesitation, the Church made the purchase and on Monday, Mrs. Lewis-Viechweg accompanied by her nephew, Nigel Lewis of Tru Capo Productions in St. Kitts, made good on her pledge to help the Home and presented the necessary items to Ms. Stevens on behalf of the Home. Ms. Lewis also arranged for one of her other nephews, Jermaine Lewis of Jaytech, to complete the installation of the new system.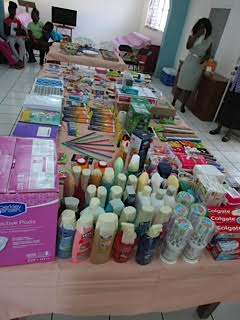 Going the extra mile, after visiting the Children's Home "Ways Help" page on their website (www.StChristopherChildrensHome.org) Edrice made an additional contribution of much needed and appreciated school supplies, health and beauty items for the children.
After the presentation the children were treated to a pizza party courtesy of Domino's Pizza, Basseterre.
For more information on how you can help please visit our website and friend us on Facebook.